Best of 2019 PGA Merchandise Show
In January we had the privilege of being media representatives for the 2019 PGA Merchandise Show in Orlando, Florida.   It was more than what we expected!  Golf Industry Professionals along with PGA Professionals from all over the world come together to see what is trending in the world of golf. 
We attended the world's largest Outdoor Demo Day, listened to seminars from the top golf instructors, sat in on the golf version of Shark Tank, ooh'd and aah'd at a fashion show (more on that later), and met our newest PGA President.  We walked the show's floor and rubbed elbows with our industry's VIPS.  We took it all in so we could come back and share with you our top Highlights from the show.  Although there were hundreds of amazing vendors, seminars, etc that were great –  Hacker's style is to give you a top ten!
Hacker's Top Ten: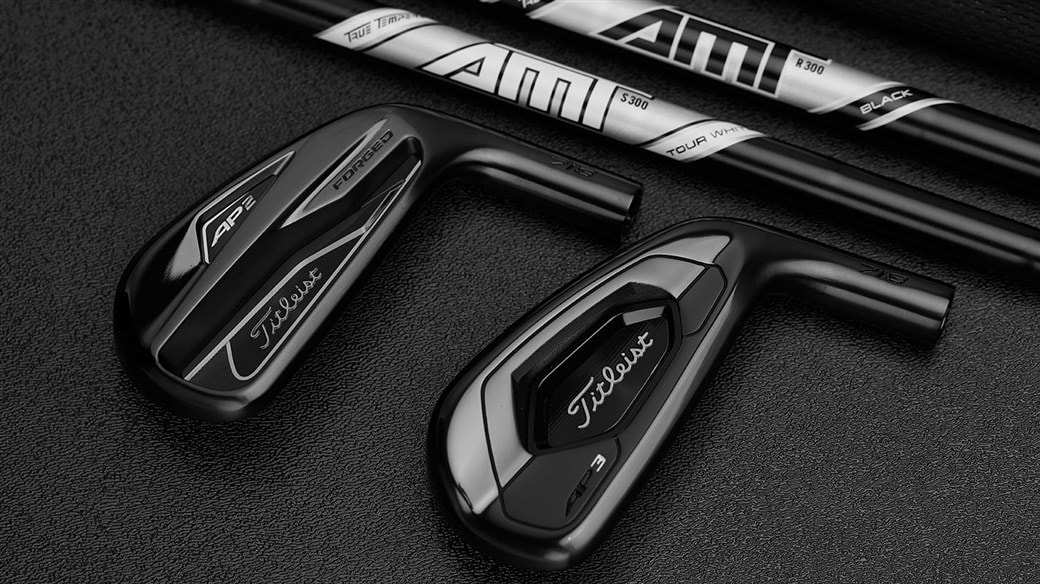 Ok I have a confession.  I am totally biased towards these things because as soon as I saw them I set up a fitting and these bad boys now have the privilege to call Hacker's bag home.  I got the AP3's and I am in love.  They are long, accurate and look so sexy.  The High Polish Black Finish is a limited run, so do not wait on them.  Like all of Hacker's favorite things in life these babies are fast and forgiving.  I even changed my tee box walk up song to AC/DC's "Back in Black!"
9.  The Runway Fashion Show
JT Hacker is synonymous with fashion on and off the course, so it should be no surprise to anyone that the Fashion Show made the list this year.  Under Armor and Travis Matthew brought awesome threads to the runway, and as always their 2019 lines do not disappoint.  Katherine Way  and Daily Sports are two female clothing lines that stole the show and are due for big seasons.
This product is genius and of course our fellow Badger State (Wisconsin) golf fanatics came up with it. 
Where do you keep your phone during a round?  Do you let it bounce around in a cup holder or slide around in that dirty compartment that is like a black hole? 
Personally I don't like anything in my pockets while I play other than my marker and my divot tool, so my phone stays on the seat where it can slide off and get lost (maybe not the worst thing some days).  Click Caddie to the rescue.  It is a phone mount that will work with any golf ball holder in a golf cart.  No more lost phones.  You can have your favorite golf GPS app readily available or listen to your favorite music.  I even put my conference calls on speaker, hit mute and sneak in a round without anyone knowing. This thing is AWESOME!
So Callaway is the tent that I sprinted to first on Demo Day, and I was not disappointed.  Callaway has gone all out with their new driver's campaign and it is easy to understand why.  This club is a beast!  The Flash Face technology makes this club feel smooth from address to follow through.  Hitting a driver that produces such speed and power gives me confidence and prevents me from over-swinging.  Well done Callaway!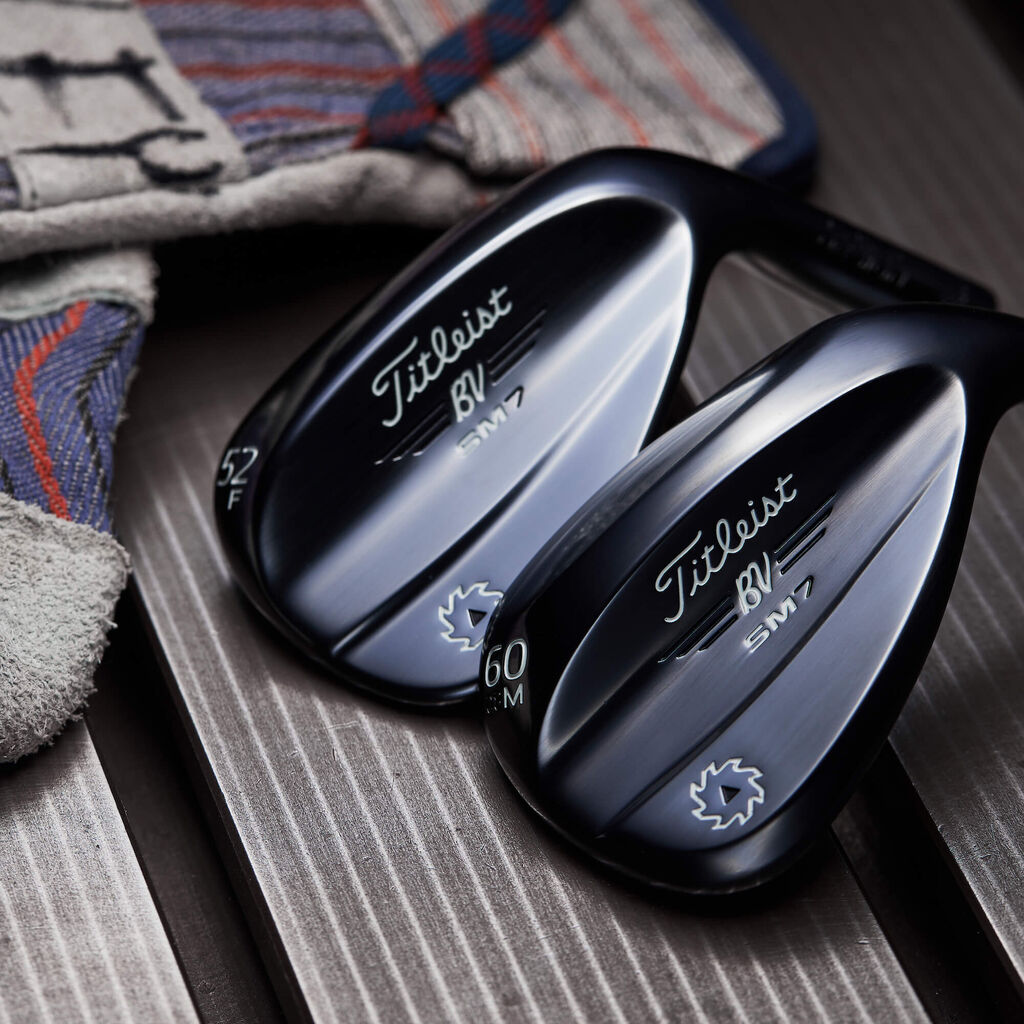 I know this will not be a shock to all of you Hacker fans, but I spent a fair amount of time at the Titleist exhibit at the Merch Show.  Ninety percent of that time was drooling in front of the new Vokey line that comes in the Oh So Sweet, Slate Blue.  These wedge weapons come in 23 different lofts, bounce and grind options.  I decided to couple these with the Blacked Out AP3's for golf's best looking bag.  Of course I am deadly accurate with my new weapons, but when they look this good….. Who cares right?!
These guys took our breath away at the show.  ARGOLF prides it line of deluxe putters on three things: Finesse, Technological Precision, and Balance.  I promise they deliver on all three.   All of their putters are fully customizable, making every putter like every golfer, unique.  Just putting their PENDRAGON model in my hand, I could picture sinking 20 plus footers with ease.  It is no wonder our friend Lucas Glover decided to put an ARGOLF in his bag on tour this year.
I love this idea and I love everything about this product!
Hacker likes to have a golf shoe to match every outfit I wear on the links.  Are you surprised?  That means way too many pairs of shoes.  But not anymore with Jack Grace.  They have a swappable saddle design, so you only need one pair of shoes with endless possibilities to let your personality out.  Their flag stick logo on their hats is clean, pure, and beautifully simple.  Hacker's motto is look good, play good.  Jack Grace is my new go to for the looking good part.  When I asked founder Bart Walker about the name, he quickly showed me a picture of his daughter Grace and his son Jack – Hacker  knew he was a customer of this family man's brand!
Yes, that is 2019 World Golf Hall of Famer Inductee, Jan Stephenson.  The 3 time Major winner with 41 worldwide victories has teamed up with Broken Earth Winery from the Central Coast of California to make our tastebuds very happy.  At the show we met up with Jeff DeCoen, Jan's long time caddie, friend, and now brand ambassador.  Jeff let us sample the goods and I was so impressed.  The red and white varieties are perfect for all the pallets in your foursome.  My favorite is the award winning rum varieties.  The passion fruit flavor is the perfect cocktail to sip on the patio of your golf club or own backyard.

Brand name apparel and accessories.  Straight to my doorstep every month.  For up to 60% less than retail prices. 
Sign me up!  You even get to let them know about your personal style and what you would like in you subscription box every month.   These guys are on fire!  They just signed Rickie Fowler and show no sign of slowing down.  This is a lifesaver for the time cramped golfer who doesn't have time to go shopping for the hottest new threads.  The only thing that could make Short Par 4 better is a sleeve of Premium Used Balls from Two Guys with Golf Balls!
1.  Suzy Whaley: 41st President, PGA of America
Do you know Suzy Whaley? 
You may recognize her from the past as the first woman in 58 years to qualify for a PGA event.  Or perhaps you have seen her name near the top of lists of the country's top golf instructors.  Trust me she is one of the best.  She has the title of PGA Master Professional which is the highest educational level the PGA offers. 
The PGA made a very wise decision in November and made her the 41st President of the PGA of America.  Just like Secretary and Vice President before, she is the first woman to hold the office.  We had the honor of meeting President Whaley at her Women in the Golf Industry seminar.  She spoke about expanding the horizons for the PGA by enhancing and promoting campaigns like inviteHER and PGA WORKS.  
Look for more great things to come from President Whaley but we know for a fact that her immediate focus will be diversity, welcoming, and fun for all.  She will be focusing on taking this to ALL people ultimately letting them make the choice to be a golfer, not the golf making that decision for them.
All of us at TwoGuysWithGolfBalls.com will be rooting for President Whaley's success and supporting her in every way possible, we can't wait to see what she has in store for our great game!
What's next?
What an amazing experience it was to attend the 2019 PGA Merchandise show.  We can't wait to bring you more detail of our experience as well as our continued coverage of ALL THINGS GOLF!
Remember….Every hole is a BIRDIE Hole!
Hacker